Today in the 30-Day Challenge, we read…
"Devote yourselves to prayer; stay alert in it with thanksgiving."  – Colossians 4:2
To create a culture of prayer we need not only to recruit people to pray for us but we also need to pray for others.
Your day 4 challenge is to take a piece of paper and number it from 1 to 30.  Beside each number write the name of a Christian friend.  Next, look at what day it is and call that person on your list (if it is the 30th of the month then call number 30 on your list).  When you call say something like, "Hi Brian!  You are on my prayer calendar today which means I will be praying for you throughout my day.  Is there any specific request that you would like for me to talk to God about on your behalf?"  If at all possible, pray with that person before you hang up.  If you can't call, then text them or email.  But be sure to text or email them an actual prayer.  This will keep you accountable and the person will know they were prayed for. You will develop deeper relationships because you prayed together.  If you want to be a disciple maker you must develop a prayer life.
You could also encourage your thirty people to find people to pray for as well.  In doing this we will create a culture of prayer.  As this culture of prayer develops, it will permeate every heart with a pattern of prayer for lost people worldwide while creating in the church a heart of prayer for your community.
Optional Homework
Watch the video Malkee's story at below. Maybe you have felt overwhelmed at the prospects of heading out into your community to launch a disciple making movement.  If so, watch this video about a man who felt just the same as you did but see how God made a difference in his life through prayer.
Follow Through
Here are some further resources, tools, and blog posts to help you tackle today's Challenge more effectively.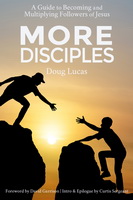 The Revised and Enlarged Version of More Disciples (now available at Amazon) adds significant text, including Questions for Discussion. For the benefit of any who bought the "1.0" version of the…