Vision Casting the Greatest Blessing
Learn a simple pattern of making not just one follower of Jesus but entire spiritual families who multiply for generations to come.
*Thank you, Zúme, for providing the videos for the 30-Day Challenge. This video is only a small part of the great training that they offer for free. If you would like to learn more about Zúme, use this link: https://Zume.Training
Reflection
Is this the pattern you were taught when you first began to follow Jesus? If not, what was different?
After you came to faith, how long was it before you began to disciple others?
What do you think would happen if new followers started sharing and discipling others immediately?
Action Step
Memorize the 4 greatest blessings and share with a friend.
If you would like to dig deeper into this topic, please use this link to access the Zúme training website: https://zume.training/vision-casting-the-greatest-blessing/
---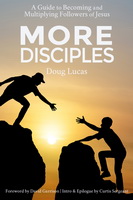 The Revised and Enlarged Version of More Disciples (now available at Amazon) adds significant text, including Questions for Discussion. For the benefit of any who bought the "1.0" version of the…