Today in the 30-Day Challenge we read…
"Now many Samaritans from that town believed in Him because of what the woman said when she testified, 'He told me everything I ever did.'"  – John 4:39
In order to know how to make good disciples, let's first define what we mean when we say the word, "disciple." In its simplest terms, a disciple is one who follows. But when we study the disciples of the New Testament, we find that they did a lot more than follow. They also trained others to follow too. As soon as Andrew met Jesus, he immediately went to find Peter. (John 1:42)
As soon as Jesus shared the Good News with the woman at the well, she went to tell everyone in her town about the Savior (John 4:39) and "Many believed!" Immediately after he met Jesus, the demoniac went back to his home towns and "everyone was amazed" (Mark 6:20). So for us, a disciple is one who follows, while he's leading someone else. In fact, one could say that disciples train others to train others to train others!
Your challenge for today is to find someone, familiar or otherwise, to whom you can explain this concept. Share with him or her that you have set a goal to be a disciple who multiplies. Find one person — and share this news. Perhaps it will be easier to explain if you have a video to help you put things into perspective. Check out the one below to see if it helps. : )
Follow Through
Here are some further resources, tools, and blog posts to help you tackle today's Challenge more effectively.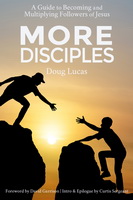 The Revised and Enlarged Version of More Disciples (now available at Amazon) adds significant text, including Questions for Discussion. For the benefit of any who bought the "1.0" version of the…