Today in the 30-Day Challenge we read…
"Immediately he received his sight and followed Jesus, praising God.  When all the people saw it, they also praised God."  – Luke 18:43
It's important that you become comfortable sharing your testimony and God's story.  On Day 6, you created a list of 25 people that you know and interact with regularly (some who are saved and especially those who are lost).  On Day 12 your challenge was to to find a Christian friend and practice sharing your testimony.
Your Day 18 Challenge is to pick 5 people from your list of 25 that you feel comfortable telling your story.  Schedule an appointment with them.  If they already know Christ you can immediately help them write and practice sharing their story (template found here).  Encourage them to start the MoreDisciples challenge!"
Follow Through
Here are some further resources, tools, and blog posts to help you tackle today's Challenge more effectively.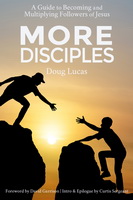 The Revised and Enlarged Version of More Disciples (now available at Amazon) adds significant text, including Questions for Discussion. For the benefit of any who bought the "1.0" version of the…