Expect Non-Sequential Growth
See how disciple making doesn't have to be linear. Multiple things can happen at the same time.
*Thank you, Zúme, for providing the videos for the 30-Day Challenge. This video is only a small part of the great training that they offer for free. If you would like to learn more about Zúme, use this link: https://Zume.Training
Reflection
Have you ever seen a new believer multiply quickly?
What things do we do that actually slow or stop this from happening intentionally or unintentionally?
Action Step
Practice sharing the 3 Circles method with a friend. View the video again below to review if needed.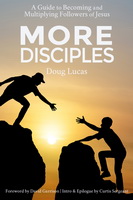 The Revised and Enlarged Version of More Disciples (now available at Amazon) adds significant text, including Questions for Discussion. For the benefit of any who bought the "1.0" version of the…