Today in the 30-Day Challenge we read…
"When Philip ran up to it, he heard him reading the prophet Isaiah, and said, "Do you understand what you're reading?"  – Acts 8:30
 
Have you ever thought about how paradoxical the Kingdom of God is? The more we breathe in from His teachings, the more we can exhale to those around us — to our family, our friends, and everyone we meet. In New Testament times, authors used the word, "oikos," to describe our entire 'household.' Trainers are using that word today to describe our entire sphere of influence — including everyone we meet.  However, if we truly want to BE a blessing to others, we will receive instructions from God, oBEy them, then share them with everyone we meet.
Remember how we've been learning the three-thirds Bible study method (for example, on Day 22)?
Today's Challenge is to make a list of five people. Call or contact one person at a time until you find someone who agrees with you to start a three-thirds study which will meet once a week. This study can become like a "simple church" within your existing church, and one to which you can invite relationships in your oikos. This will take courage – but you can do it. If none of the five agrees, make a list of five more until SOMEONE agrees (even if it's your spouse or sibling) — then set a date for your first study.
Watch videos about today's challenge, find the three-thirds guidesheet, and get additional help below."
Ready? Let's get started. Here's that three-thirds guidesheet you'll need to help you implement a Discovery Bible Study. Curious about what scripture passages to use for starters? Here's a Starter Track of 8 suggested scriptures, just to get you off on the right foot. Next, listen to Curtis explaining the difference between God's economy (the upside-down kingdom) and the WORLD'S economy.
Optional Homework
Next, here's DMM Trainer, Jon Ralls, explaining the concept of our oikos or relational networks.
Follow Through
Here are some further resources, tools, and blog posts to help you tackle today's Challenge more effectively.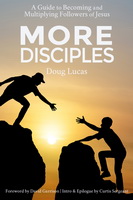 The Revised and Enlarged Version of More Disciples (now available at Amazon) adds significant text, including Questions for Discussion. For the benefit of any who bought the "1.0" version of the…