Today in the 30-Day Challenge we read…
"This is love for God:  to obey His commands.  And His commands are not burdensome…"  – 1 John 5:3-4
"We can sing all the worship songs ever written and proclaim to all that we love Christ, but these songs and statements are meaningless and hypocritical if we are not obedient to Him in every area of life.  Our feelings do not define our love.  Our words do not define our love.  It is our motives, our actions, our obedience to Christ that defines our love for Christ." (Contagious Disciple Making, Watson).
It is very clear that the Bible teaches that it is impossible to love Christ without obedience.
Your Day 13 Challenge is to read the following passages:
Deuteronomy 6:1-3
John 14: 15-25
John 15:5-17
1 John 5:1-4
Luke 9:23-24
Luke 14:27
In the Great Commission Jesus commanded us to teach disciples to obey: "Then Jesus came to them and said, 'All authority in heaven and on earth has been given to me.  Therefore go and make disciples of all nations, baptizing them in the name of the Father and of the Son and of the Holy Spirit, and teaching them to obey everything I have commanded you.  And surely I am with you always, to the very end of the age'" (Matthew 28:18-20).
Optional Homework
Watch the following video: Love Means Obedience below.
Follow Through
Here are some further resources, tools, and blog posts to help you tackle today's Challenge more effectively.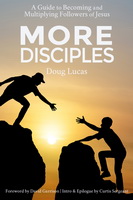 The Revised and Enlarged Version of More Disciples (now available at Amazon) adds significant text, including Questions for Discussion. For the benefit of any who bought the "1.0" version of the…