Baptism and How to Do It
Jesus said, "Go and make disciples of all nations, baptizing them in the name of the Father and of the Son and of the Holy Spirit…" Learn how to put this into practice.
*Thank you, Zúme, for providing the videos for the 30-Day Challenge. This video is only a small part of the great training that they offer for free. If you would like to learn more about Zúme, use this link: https://Zume.Training
Reflection
Have you been baptized? If not, who is a believer you could talk to and take this next step of obedience with?
Have you ever baptized someone?
Would you even consider it?
If the Great Commission is for every follower of Jesus, does that mean every follower is allowed to baptize others? Why or why not?
Action Step
If you haven't been baptized, talk to someone who has and ask them why they were baptized. If you feel prompted ask them to baptize you. If you have already been baptized, pray through your list of 10 and pick one to explain baptism to. Ask if they would like to be baptized.
If you would like to dig deeper into this topic, please use this link to access the Zúme training website: https://zume.training/baptism-and-how-to-do-it/
---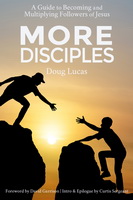 The Revised and Enlarged Version of More Disciples (now available at Amazon) adds significant text, including Questions for Discussion. For the benefit of any who bought the "1.0" version of the…