Today in the 30-Day Challenge we read…
"Always be ready to give a defense to anyone who asks you for a reason for the hope that is in you."  – 1 Peter 3:15
An important process in disciple making is sharing your own testimony.  We need to be comfortable sharing our own stories.  Your Day 7 Challenge is to prepare your story and then be ready to share it with people.
Watch the video below to see one method for preparing a testimony. If you'd like to see a testimony written out, just click to this post.
Optional Homework:
Here are some tips to keep in mind as you prepare your story:
Talk about your life after following Jesus – Tell them about how Jesus changed your life. Tell of the joy, peace, and forgiveness Jesus gave you.
Invite a response. Your story should ask for a response. End with a question that will help you discover the person's level of spiritual interest. Ask something like: "Would you like to know how you can be forgiven?" or "Would you like God to change your life?"
Keep it Brief (3 minutes or less). Your story should be short and interesting. Do not be boring and do not talk so long that the listener loses interest. Always end with a question so you know if they are spiritual and if they are interested.
Many people in the Bible shared their personal testimonies. Some examples are the Gerasene demoniac (Mark 5:18-20), the Samaritan woman (John 4:28-30, 39), Peter and John (Acts 4:18-21) and Paul (Acts 9:1-22; 22:3-16; 26:9-18). You should read these passages to get some ideas about how to share your faith in this way.
Follow Through
Here are some further resources, tools, and blog posts to help you tackle today's Challenge more effectively.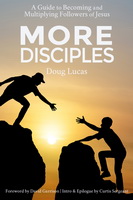 The Revised and Enlarged Version of More Disciples (now available at Amazon) adds significant text, including Questions for Discussion. For the benefit of any who bought the "1.0" version of the…