Today in the 30-Day Challenge we read…
"For just as we have many members in one body and all the members do not have the same function, so we, who are many, are one body in Christ, and individually members of one of another." – Romans 12:4-5
In the Day 1 challenge we asked you to find a prayer partner to pray for you for the next 30 days. Your Day 8 Challenge is to contact your prayer partner and report your experiences over the past 7 days. Thank your prayer partner for lifting you up and ask if he/she has any prayer needs.
If you would like more coaching on this or any other topic mentioned so far, or any challenge coming up, please email info@moredisciples.com.
Optional Homework
Please watch this video, which helps us understand that "love means obedience." As a result of this foundational principle (and many others), we should desire accountability and coaching.
Follow Through
Here are some further resources, tools, and blog posts to help you tackle today's Challenge more effectively.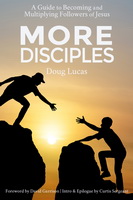 The Revised and Enlarged Version of More Disciples (now available at Amazon) adds significant text, including Questions for Discussion. For the benefit of any who bought the "1.0" version of the…