Today in the 30-Day Challenge, We read…
"Love the Lord your God with all your heart, with all your soul, and with all your strength." – Deut. 6:5
Am I a disciple worth multiplying? Do I love the Lord with all my heart? One of the best ways to reveal the true answer to this question is to examine ourselves using an inventory like Wesley's Quiz found here:
Your day 3 challenge is to click on the link and read through the questions. Take time to be honest and objective with yourself and allow the Holy Spirit to show you the areas in which He wants you to grow. Ask God to help you become a disciple worth multiplying.
Optional Homework
Read Matthew 5, 6, and 7. Ask the Lord to reveal to you which 1 – 4 verses that you should focus on today. Write out those verses word-for-word. Afterwards, paraphrase these verses in your own words. Ask the Lord how you should apply those verses in your life today as well as for strength, courage and boldness to put it into practice.
With whom could you share these verses? Ask God to put someone in your path with whom you could share these verses. By doing these steps we are both becoming the disciple Jesus wants us to be and multiplying our life in others.
Feel free to contact us with any questions that come up!
---
On Day 3, we are challenged to become a disciple worth multiplying.
We invite you to watch this 8-minute video about how Abraham was a follower of God worth reproducing.
Follow Through
Here are some further resources, tools, and blog posts to help you tackle today's Challenge more effectively.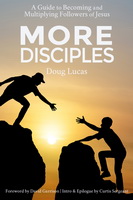 The Revised and Enlarged Version of More Disciples (now available at Amazon) adds significant text, including Questions for Discussion. For the benefit of any who bought the "1.0" version of the…