Today in the 30-Day Challenge we read…
"And the things you have heard me say in the presence of many witnesses entrust to reliable people who will also be qualified to teach others."  – 2 Timothy 2:2
Have you ever heard the saying, "Slow and steady wins the race?"  This might at first seem like reverse logic.  But by investing in a few who will then invest in others we can make disciples who will make other disciples with the same level of commitment and thorough obedience.
Your Day 14 Challenge is to watch the video below.
Follow Through
Here are some further resources, tools, and blog posts to help you tackle today's Challenge more effectively.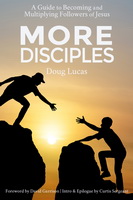 The Revised and Enlarged Version of More Disciples (now available at Amazon) adds significant text, including Questions for Discussion. For the benefit of any who bought the "1.0" version of the…