Prepare Your 3-Minute Testimony
Learn how to share your testimony in three minutes by sharing how Jesus has impacted your life.
*Thank you, Zúme, for providing the videos for the 30-Day Challenge. This video is only a small part of the great training that they offer for free. If you would like to learn more about Zúme, use this link: https://Zume.Training
Reflection
What false fears keep us from sharing our testimony?
What makes a testimony effective? Where does its power come from?
Action Step
Practice sharing your testimony with a friend. It might be easier to start with someone who is already a believer before practicing with a non-believer.
If you would like to dig deeper into this topic, please use this link to access the Zúme training website: https://zume.training/prepare-your-3-minute-testimony/
---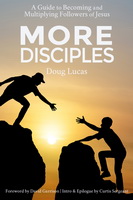 The Revised and Enlarged Version of More Disciples (now available at Amazon) adds significant text, including Questions for Discussion. For the benefit of any who bought the "1.0" version of the…