3/3 Group Meeting Pattern
A 3/3 Group is a way for followers of Jesus to meet, pray, learn, grow, fellowship and practice obeying and sharing what they've learned. In this way, a 3/3 Group is not just a small group but a Simple Church.
*Thank you, Zúme, for providing the videos for the 30-Day Challenge. This video is only a small part of the great training that they offer for free. If you would like to learn more about Zúme, use this link: https://Zume.Training
Reflection
Did you notice any differences between a 3/3 Group and a Bible Study or Small Group you've been a part of (or have heard about) in the past? If so, how would those differences impact the group?
Could a 3/3 Group be considered a Simple Church? Why or why not?
Action Step
Make a list of 3-4 friends that you can start a three-thirds group with and over the next few days (day 25 and 26) you will be challenged to actually invite them. This could be a one-time commitment or the start of a weekly group.
If you would like to dig deeper into this topic, please use this link to access the Zúme training website: https://zume.training/3-3-group-meeting-pattern/
Remember to watch/listen to the 3 Circles Video to help you memorize it.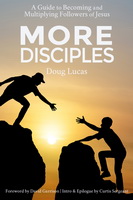 The Revised and Enlarged Version of More Disciples (now available at Amazon) adds significant text, including Questions for Discussion. For the benefit of any who bought the "1.0" version of the…