Today in the 30-Day Challenge we read…
On Day 12, our challenge went like this:
"Preach the word; be prepared in season and out of season; correct, rebuke and encourage – with great patience and careful instruction." – 2 Timothy 4:2
On Day 7 you were challenged to write out your testimony. (You can see a template in the "Follow Through" resources below.)
Your Day 12 Challenge is to find a Christian friend and practice sharing your testimony. It is important that you have your story prepared and that you are always ready to share it with people. Be sure to continue praying that the Holy Spirit will break down barriers and lead you to people who are ready to hear and believe.
We would love to hear from you. How's the 30 day challenge going for you? Questions? Email info@moredisciples.com for questions, testimonies, or comments.
Now — on Day 7, we presented a video by Jon Ralls on writing your testimony. Today, we share a video from the Philippines on the same topic, but this time, you can pick up on some of the cultural differences.
Follow Through
Here are some further resources, tools, and blog posts to help you tackle today's Challenge more effectively.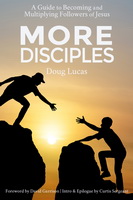 The Revised and Enlarged Version of More Disciples (now available at Amazon) adds significant text, including Questions for Discussion. For the benefit of any who bought the "1.0" version of the…