Today in the 30-Day Challenge we read…
"Then Jesus went to all the towns and villages, teaching in their synagogues, preaching the good news of the kingdom, and healing every disease and every sickness." – Matthew 9:35
By now you must be wondering how do all of these activities lead to a disciple-making movement. The first step is the environment of prayer. It provides the foundation for everything. Every great movement of God has been preceded by extraordinary prayer.
The second step is to become an authentic disciple worth multiplying. By embracing a path that leads us through the fruit of the Spirit we are walking in steps worth following.
The third component of this quest is to open our eyes to a world full of people, some of whom are searching. It could be the immigrant at your soccer field or the parent of your child's school mate who is currently experiencing marital difficulties. When we open our eyes and ears to those around us we will sometimes discover people who have felt needs for which we can pray. With these searching people we must train ourselves to begin conversations that matter. We must learn to ask questions that don't intimidate but that invite them to share with us their struggles. By authentically praying with them for these struggles we will be modeling the life of Jesus and opening the door for deeper spiritual conversations to follow.
Your Day 11 Challenge is to find a place in which you can encounter people. Then open your eyes and ears to their struggles. This could be in a coffee shop with friends or with the waiter at your favorite restaurant. Somehow work up your boldness to ask that person if you can pause to pray for him or her or at least steer the conversation in a spiritual direction.
In an effort to become more intentional about our prayers and conversations, watch this video, featuring Curtis Sergeant sharing about a bias toward action.
Follow Through
Here are some further resources, tools, and blog posts to help you tackle today's Challenge more effectively.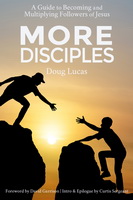 The Revised and Enlarged Version of More Disciples (now available at Amazon) adds significant text, including Questions for Discussion. For the benefit of any who bought the "1.0" version of the…