"Then Jesus told them this parable:  "Suppose one of you has a hundred sheep and loses one of them.  Doesn't he leave the ninety-nine in the open country and go after the lost sheep until he finds it?"  – Luke 15:3-4
Jesus sure cared a lot about the last, the least, and the lost. So should we. In fact, some feel that the main reason we don't invest more of our time focused on discipling others (the Great Commission) is because we don't really believe Hell is real. You see, if we DID, then we'd consider this an emergency situation — and we'd risk EVERYTHING to keep people from going there.
There are a lot of social justice issues that need attention today: Human trafficking, the refugee/migrant crisis, wars and social unrest… But if Hell is real, the greatest social injustice of all time would be if we let time slip by without sharing the Good News with the 2.9 billion who still have yet to hear it. When it comes to the Kingdom of God, they are "missing persons." And it's criminal if we don't start telling them today.
You can learn more about unreached people worldwide at Joshua Project. In addition, you might find unreached people groups living very near you by analyzing your community at PeopleGroups.info.
To summarize, today's Challenge, watch Curtis Sergeant's video, "Eyes to see where the Kingdom Isn't," then invest a significant time in prayer asking God to help you make a difference in the lives of "missing persons" — those outside the Kingdom. Please find the video below.
Follow Through
Here are some further resources, tools, and blog posts to help you tackle today's Challenge more effectively.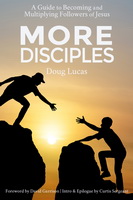 The Revised and Enlarged Version of More Disciples (now available at Amazon) adds significant text, including Questions for Discussion. For the benefit of any who bought the "1.0" version of the…