Always Part of Two Churches
Learn how to obey Jesus' commands by going AND staying.
*Thank you, Zúme, for providing the videos for the 30-Day Challenge. This video is only a small part of the great training that they offer for free. If you would like to learn more about Zúme, use this link: https://Zume.Training
Reflection
What are some advantages of maintaining a consistent spiritual family that gives birth to new ones that grow and multiply instead of continually growing a family and splitting it in order to grow?
Action Step
Go back to the list of 100 and fill-out as many people as you can. Remember that these are the people you want to share God's Story with. Pray through all of them and plan how you will share with them.
If you would like to dig deeper into this topic, please use this link to access the Zúme training website: https://zume.training/always-part-of-two-churches/
---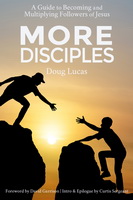 The Revised and Enlarged Version of More Disciples (now available at Amazon) adds significant text, including Questions for Discussion. For the benefit of any who bought the "1.0" version of the…