Today in the 30-Day Challenge we read . . .
"And He personally gave some to be apostles, some prophets, some evangelists, some pastors and teachers, for the training of the saints in the work of ministry, to build up the body of Christ…"  – Ephesians 4:11-12
An important component of disciple making is self-feeding.  Self-feeding refers to items that must be evident in our lives if we are to become disciples worth reproducing.  We should be producers not just consumers.
Every believer should be self-feeding.  We need to make sure that we aren't viewing our Sunday church service as the time to be fed spiritually – and not doing anything on our own the other days of the week.  The purpose of the leaders in our church, according to Ephesians 4:11-12, is to equip us for ministry not to feed us.
The next few days we will build on these self-feeding items:
Interpreting and applying the Word
Prayer
Body life
Persecution and suffering
The challenge for the day is to watch the Self-Feeding Overview video athttps://moredisciples.com/self-feeding/.
Continue your SOAPs as mentioned in yesterdays challenge."
Follow Through
Here are some further resources, tools, and blog posts to help you tackle today's Challenge more effectively.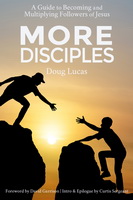 The Revised and Enlarged Version of More Disciples (now available at Amazon) adds significant text, including Questions for Discussion. For the benefit of any who bought the "1.0" version of the…