Today in the 30-Day Challenge we read…
"For I delivered to you as of first importance what I also received:  that Christ died for our sins in accordance with the Scriptures, that he was buried, that he was raised on the third day in accordance with the Scriptures."  – 1 Corinthians 15:3-4
Now that we're getting into the habit of practicing the telling of our own story — our testimony — we also need to practice telling GOD's story, the story of redemption. The trouble is, for some, there's so much to tell!
Paul sums it up best, perhaps, above, when he reminds the Corinthians that "of first importance" was that Christ came, died for the things I've done wrong — to pay the price of judgment for my evil-doing — was buried, then rose from the dead to show his power over death, thereby signifying that we can have power over death, too, in an afterlife.
Today's challenge is to sort out for yourself, what will YOU tell, the first chance YOU get to describe the story of God. Some believe it's important to sum up everything, from creation to judgment, while others believe in a more simple approach (basically retelling the paragraph above!). In either event, we suggest that you come up with an answer that won't take you more than two to four minutes to deliver. See below for examples and more ideas."
Here is an example you might consider — but please do NOT memorize it. Write your own version, as short, or as long (up to 2-4 minutes) as you like.
Want the 'script' for this video in printed form?
1) Here's the text in PDF format.
2) This text plus outline version is, according to some, easier to remember.
3) And this format combines print with pictures, in an attempt to make it even easier to remember. All three printed versions are similar.
Follow Through
Here are some further resources, tools, and blog posts to help you tackle today's Challenge more effectively.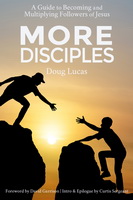 The Revised and Enlarged Version of More Disciples (now available at Amazon) adds significant text, including Questions for Discussion. For the benefit of any who bought the "1.0" version of the…