Practice SOAPS Bible Reading
Spend the time today practicing the SOAPS Bible reading method. Remember that SOAPS stands for:
Scripture: Write out one or more verses that are particularly meaningful to you, today.
Observation: Rewrite those verses or key points in your own words to better understand.
Application: Think about what it means to obey these commands in your own life.
Prayer: Write out a prayer telling God what you've learned and how you plan to obey.
Sharing: Ask God who He wants you to share with about what you've learned/applied.
---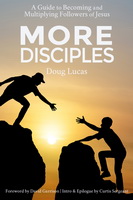 The Revised and Enlarged Version of More Disciples (now available at Amazon) adds significant text, including Questions for Discussion. For the benefit of any who bought the "1.0" version of the…