Today in the 30-Day Challenge we read…
"Search for the Lord and for His strength, seek His face always." – 1 Chronicles 16:11
Prayer walking has been an effective tool in missions to get people praying 'on-site for insight' but for the sake of launching a disciple making movement it has an even more focused purpose. When we prayer walk in a neighborhood in which we want to multiply disciples we are asking God to lead us to individuals who might be more open to His message. A secondary benefit of this approach is that there are people who like the idea that a spiritual individual wants to pray for them.
Your challenge for today is to choose a neighborhood then go for a walk – a prayer walk!While you are walking, pray that God will lead you. Pray for the specific people that you will see. Muster your courage to approach at least one person and say, "Hello. I am here praying for this community. Do you know of anything that I can pray for? Is there anything that I can pray for you?"
Optional Homework
Learn more about prayer walking by watching the 3-minute video below that helps you be even more intentional with your prayer walking.
Follow Through
Here are some further resources, tools, and blog posts to help you tackle today's Challenge more effectively.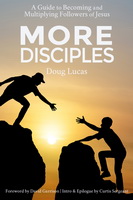 The Revised and Enlarged Version of More Disciples (now available at Amazon) adds significant text, including Questions for Discussion. For the benefit of any who bought the "1.0" version of the…