Today in the 30-Day Challenge we read…
On Day 3, we introduced the concept of reading through a key passage (like Matt. 5-7), asking God to speak to us. Let's build on that today by using the acronym, "SOAPs."
S – Scripture: Choose 1 to 4 focus verses and write them out word for word.
O – Own: Now paraphrase the focus verses in your own words.
A – Apply: Ask God how He wants you to apply any truths in the focus verses in your life today
P – Pray: Pray that the Lord will give you strength, courage and boldness to put these truths into practice today.
s – Share: Share these focus verses and the lessons you've drawn from them with someone you meet today.
Beginning today, use this SOAPs approach each day (at least through the remainder of the 30-Day Challenge). We hope and pray we'll begin implementing a SOAPs habit indefinitely.
Follow Through
Here are some further resources, tools, and blog posts to help you tackle today's Challenge more effectively.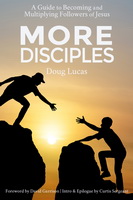 The Revised and Enlarged Version of More Disciples (now available at Amazon) adds significant text, including Questions for Discussion. For the benefit of any who bought the "1.0" version of the…