Faithfulness is Better Than Knowledge
It's important what disciples know — but it's much more important what they DO with what they know.
*Thank you, Zúme, for providing the videos for the 30-Day Challenge. This video is only a small part of the great training that they offer for free. If you would like to learn more about Zúme, use this link: https://Zume.Training
Reflection
Think about God's commands that you already know. How "faithful" are you in terms of obeying and sharing those things?
Action Step
Watch the video below on 3 Circles. Continue to listen or watch the video every day for the next four days and by the end be prepared to test your knowledge with a friend.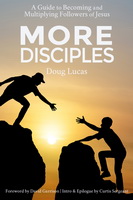 The Revised and Enlarged Version of More Disciples (now available at Amazon) adds significant text, including Questions for Discussion. For the benefit of any who bought the "1.0" version of the…