Today in the 30-Day Challenge we read…
"Search for the Lord and for His strength; seek His face always."  – Psalm 105:4
Prayer is the key component in disciple making.  It is a discipline that every believer should develop – and continue to develop.  When was the last time you spent an hour in prayer?  4 hours in prayer?  Have you ever spent the day with God?
The key that opens the closet of prayer to an hour with God is the simple division of the hour into twelve segments of five minutes each.  When you get this developed you can easily extend each segment to 10 or 15 minutes each and have 2 or 3 hours of prayer. Download a sample prayer wheel that illustrates how to do this.
Your challenge for today is to begin developing an hour with God each day.  Here's one way to make this happen: Use this prayer wheel.  Begin by adding 5 minutes each day – or 1 segment each day.  Ask God to help you. For more on this topic we suggest Sweet Hour of Prayer by Don DeWelt.  This is a great study for a group."
Optional Homework
For optional homework today, watch a portion of the six-part Prayer Course at PrayerCourse.org. When you're done, consider taking the entire course as a follow-up.
Follow Through
Here are some further resources, tools, and blog posts to help you tackle today's Challenge more effectively.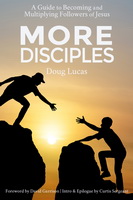 The Revised and Enlarged Version of More Disciples (now available at Amazon) adds significant text, including Questions for Discussion. For the benefit of any who bought the "1.0" version of the…