Today in the 30-Day Challenge we read…
"And I also say to you that you are Peter, and on this rock I will build My church, and the forces of Hades will not overpower it." – Matthew 16:18
Jesus has not called you to build his church. In fact, in all of the Gospels he mentions the church only two times. One time he mentions it, it's about conflict resolution. The other time? To say that he will build his church. Our job, our only job and the last instructions he gave us, was to make disciples. And out of this we will get the church. Out of this, the future will emerge, and out of this, there will be a missional wave the likes of which we have never seen (Breen, Mike. Building a Discipling Culture).
What if you could reach 1 unbeliever this week? What if you could get a Christian friend to adopt a disciple-making vision – and he could reach 1 unbeliever this week? What if you could get 2 Christian friends to join you in this 30 Day Challenge – and they could each reach 1 unbeliever this week? If you go it alone you only reach 1. But if you share this vision with two Christian friends you could possibly, with their help and God's, change the eternal destiny of 3 unbelievers this week! And the rest just keeps multiplying!
Your Day 10 Challenge is to talk about disciple-making with 1 or 2 of your closest Christian friends. Pray now that they would catch the vision and join forces to be a disciple that would make disciples.
Optional Homework
The simplest thing you can do right now to multiply your life and discipleship is to spread the word about the 30-Day Challenge itself. Make sure you invite others to visit this site. Dare them to sign up for the 30-Day Challenge. This not only spreads the word about making disciples, it also gets you in the habit of telling others about a path that leads toward multiplication.
To learn more about the concept of multiplication, listen to Curtis Sergeant share from his own life regarding when he began to "get" multiplication.
Follow Through
Here are some further resources, tools, and blog posts to help you tackle today's Challenge more effectively.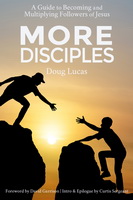 The Revised and Enlarged Version of More Disciples (now available at Amazon) adds significant text, including Questions for Discussion. For the benefit of any who bought the "1.0" version of the…