Today in the 30-Day Challenge, We read…
"Be serious! Be alert! Your adversary the Devil is prowling around like a roaring lion, looking for anyone he can devour."  – 1 Peter 5:8
When you decided to take this 30-day challenge, Satan and his cohorts took notice.  Why?  Because they know if you are successful many other individuals will come to faith in Christ.  Satan will do anything to prevent that from happening.  Therefore, your challenge for day 1 is to find someone who will stand beside you in prayer.  You need a dedicated prayer warrior to lift you up for 30 days.
Optional Homework:
Order the book, More Disciples,  and read the Introduction by Curtis Sergeant, pages 1-4. In it, Curtis talks about the "poverty of time." Spend some time talking to God about your own life. Ask Him for help learning to prioritize disciple-making.
---
So on this day, we introduce the concept of finding a prayer partner. This could easily be the most fundamentally important step for the entire 30 days. Finding someone who will stick with you through this series of challenges could make all the difference for your effectiveness and productivity.
Some might rather get a "big picture" view of what we're aiming for in these next 30 days. For those, we offer this video as optional homework:
Follow Through
Here are some further resources, tools, and blog posts to help you tackle today's Challenge more effectively.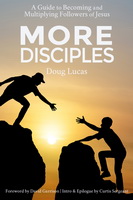 The Revised and Enlarged Version of More Disciples (now available at Amazon) adds significant text, including Questions for Discussion. For the benefit of any who bought the "1.0" version of the…
[Note: This post is also available in: Russian ]