Today in the 30-Day Challenge we read…
"If a son of peace is there, your peace will rest on him; but if not, it will return to you." – Luke 10:6
When you start going beyond your own network to find individuals who are open to the Gospel, you are looking for a 'Person of Peace.'
In Luke 10, a person of peace is defined as:
V. 5- opens his door to you
V. 6- receives your blessing and shows interest
V. 7- opens his house to you/hospitable
V. 7- offers to sustain you in some way
V. 4- does not waste time
And in Matthew 10, this person is defined as:
V. 13- he is worthy
V. 13- has influence in his home
V. 14- receives you
V. 14- hears your words
A Person of Peace will also:
be open when you make spiritual statements.
respond with spiritual statements.
ask questions of you (not just tell you their opinion – but want to know yours).
respond to your invitation to directly learn from God's Word.
Your Day 16 Challenge is fourfold today:
Watch the video below.
Read Luke 10:1-11 and Matthew 10:5-14.
Schedule a prayer walk this week and keep your eyes open for a 'Person of Peace.'
Please remember to be in prayer about finding a Person of Peace – that our Savior would have this person cross your path and to keep your eyes open to recognize this person.
Optional Homework
Read Acts 10:9-48, 16:13-15, 16:25-34, and 18:5-11. In each passage, try to identify who became a "Person of Peace." Try to discern what were his or her characteristics, what did he or she DO, and what did Jesus or his followers do.
Follow Through
Here are some further resources, tools, and blog posts to help you tackle today's Challenge more effectively.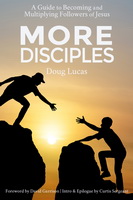 The Revised and Enlarged Version of More Disciples (now available at Amazon) adds significant text, including Questions for Discussion. For the benefit of any who bought the "1.0" version of the…