Leadership Cells
A Leadership Cell is a way someone who feels called to lead can develop their leadership by practicing serving.
*Thank you, Zúme, for providing the videos for the 30-Day Challenge. This video is only a small part of the great training that they offer for free. If you would like to learn more about Zúme, use this link: https://Zume.Training
Reflection
Is there a group of followers of Jesus you know that are already meeting or would be willing to meet and form a Leadership Cell to learn Zúme Training?
What would it take to bring them together?
Action Step
Invite 1-2 more friends to join your Three-Thirds Group. Make sure to have a date, time, and location set.
Remember to watch/listen to the 3 Circles Video to help you memorize it.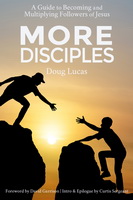 The Revised and Enlarged Version of More Disciples (now available at Amazon) adds significant text, including Questions for Discussion. For the benefit of any who bought the "1.0" version of the…