Today in the 30-Day Challenge we read…
"But you will receive power when the Holy Spirit has come on you, and you will be My witnesses in Jerusalem, in all Judea and Samaria, and to the ends of the earth."  – Acts 1:8
Becoming a disciple who makes disciples means we always have our spiritual antennae up and activated. We never go "off-duty." In some way, by hook or by crook, we seek to lead conversations from casual to meaningful, meaningful to spiritual, spiritual to an invitation. There is no script, but at the same time, pace is important; speed is important. There is no time to waste.
The challenge for today is to look for at least one person with whom we can move from one of those points (on the conversation spectrum) to the NEXT point. If  you've only been 'casual' with someone ask something meaningful. If you've already been meaningful, ask something spiritual. If you've already been spiritual, ask their permission, "Your story has been so interesting; May I share MY story?" Or invite them, "You know… reading the Bible has become such an important part of my life, I'd have to be a scoundrel not to invite you to study it too." If you don't meet someone with whom you can honestly share your story, at least call up a friend and ask if you can practice telling your testimony, or God's story. We are praying for you."
Optional Homework
Today's challenge is all about becoming an active witness for Christ. For optional homework today, check out this story by Curtis Sergeant about how prayer can connect with God's mighty witnessing power in you.
Follow Through
Here are some further resources, tools, and blog posts to help you tackle today's Challenge more effectively.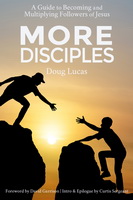 The Revised and Enlarged Version of More Disciples (now available at Amazon) adds significant text, including Questions for Discussion. For the benefit of any who bought the "1.0" version of the…