(Note: Curtis Sergeant wrote this Introduction for the new book by Doug Lucas entitled, More Disciples.  Because Curtis's words ring so true in so many contexts, we've adapted his introduction as a blog entry here at the companion website.)
"Only one life, 'twill soon be past.
Only what's done for Christ will last."
(Refrain from "Only One Life" by C.T. Studd.)
In Bethlehem, at the Church of the Nativity, there stands a statue of St. Jerome. He was the translator of the Latin Vulgate, which served as the official Catholic Scriptures from its completion in 416 AD until the latter half of the 20th century. It is widely considered to be not merely the first translation of the entire Bible, but the most important translation ever. The Church of the Nativity was built on top of a series of tunnels and caves where Jerome lived and worked on the translation for over 30 years. You will notice when you look at the statue that there is a human skull chained to his left ankle. Jerome lived with that skull chained to his leg in order for it to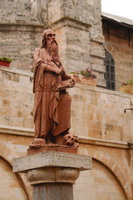 be a constant reminder to him of the brevity of life. That sort of dedication and focus enabled him to make a massive impact on the world for the Kingdom of God. (Note: This photo, right, of the statue of St. Jerome, from the actual Church of the Nativity, was taken by Curtis himself and is used by permission.)
In our day, it is perhaps more difficult than ever to maintain such focus. From New Delhi to Beijing, Lagos to São Paulo, London to New York, our increasing urbanization and the integration of new technology into our lives has led to a new sense of busyness and poverty, the poverty of time. Over and over, when seeking to disciple others and equip them to make disciples, I hear objections related to the lack of time.
The last time I checked, everyone still had 24 hours in a day. What has changed?
In Ephesians 2:10, Paul says, "For we are his workmanship, created in Christ Jesus for good works, which God prepared beforehand, that we should walk in them." This tells us that God has specific plans and intentions for what He wants us to do. In the Gospel of John, Jesus repeatedly spoke about the fact that He only said what He heard the Father saying and did only what He saw the Father doing.
My conclusion is that, if we don't have enough time, it must mean that we are not limiting ourselves to what God intends for us to do, but rather we also are seeking to do some activities we want to do. The result is, indeed, we do not have enough time. Similarly, rather than restricting ourselves to saying what the Lord is saying, we spend time saying things we want to say. The result is noise which, when added to the voluminous data our society churns out, fails to achieve the purposes God intends.
It is a matter of stewardship. We must be more in tune with the Spirit in order to utilize the 24 hours we are given each day. We constantly must be attentive to the Lord's intentions and desires in order to achieve His purposes in our communications with others.
Knowing Him and making Him known is the life of being a disciple. Constantly, He is expressing Himself and revealing Himself and communicating to us. He does this in large and bold and loud ways in nature and creation and the rise and fall of empires and the making of history and societal events. He does this in small and intimate and quiet ways through silent impressions and thoughts, dreams, and minute gestures or facial expressions of people. He does it through Scripture, prayer, fellow believers, and pain or grief. To the degree we are sensitive to His communications, we have the opportunity to know Him more intimately and make Him known more effectively.
It is a journey. This journey will not reach its destination until we see Him face to face. We are destined to be "on the way" or "in process" until then. Of course, because He is infinite and we are not, our recognition of Him will always be limited. To the degree we know Him, however, we will be remade more in His image. One purpose of our lives on earth is to begin this process in preparation for an eternity of fellowship with Him and worship of Him forever. The other primary purpose is for Him to use us to be part of His speaking to others.
More Disciples, the book, along with this companion website, provides tools and concepts to help us develop patterns that support living this sort of life, one that is on a trajectory of knowing Him more fully and making Him known better by others. Some people complain that any tools or patterns are deadening and lifeless and interfere with having a living and vital relationship with God and others. That is ridiculous. We should view such tools and processes in the same way we view eating utensils and mealtimes. Is food boring and bland because we eat with utensils? Does the use of eating utensils ruin the experience of eating? Are meals rendered meaningless because we use a knife, fork, and spoon over and over and over again? Do we lose interest in eating because of the life-draining repetitiveness of the endless cycle of breakfast, lunch, and dinner? Do we quit loving food because of these empty habits?
The tools and concepts in More Disciples provide ways for us to be intentional in listening to God, pursuing the life He intends for us, knowing Him more deeply, making Him known more effectively, and, most importantly, loving Him more passionately. Let us strive to live our lives in an intentional way like St. Jerome in order that we might please the One we love.
In 1 Corinthians 3:10-15 Paul says, "According to the grace of God given to me, like a skilled master builder I laid a foundation, and someone else is building upon it. Let each one take care how he builds upon it. For no one can lay a foundation other than that which is laid, which is Jesus Christ. Now if anyone builds on the foundation with gold, silver, precious stones, wood, hay, straw – each one's work will become manifest, for the Day will disclose it, because it will be revealed by fire, and the fire will test what sort of work each one has done. If the work that anyone has built on the foundation survives, he will receive a reward. If anyone's work is burned up, he will suffer loss, though he himself will be saved, but only as through fire."
The book, More Disciples, provides a toolkit to help us build in this way. This website can help you too. Either way, may you become a skilled craftsman.