Today in the 30-Day Challenge we read…
"…they welcomed the message with eagerness and examined the Scriptures daily to see if these things were so."  – Acts 17:11
As we learned yesterday, an important component of disciple making is self-feeding.  Today we will continue to build on this concept by discussing Interpreting & Applying the Word.  One way to begin doing this is to develop a CHAT group which consist of 2 or 3 individuals of the same gender.  This group would meet together weekly to:
Pray for 1 or 2 lost people that are known by a person(s) in the group;
Read 25 – 30 chapters of scripture a week;
and provide life accountability (applications/lessons learned/general topics that help track their spiritual maturity).
The challenge for the day is to watch the Self-Feeding Word video and view the Three Thirds Group Format sheet below.  Begin praying and thinking about who could join you in starting your own group. Also — Continue your SOAPs as mentioned on Day 20."
Here's a Guidesheet for helping us implement three-thirds (i.e., Discovery Bible) studies (DBSes)..
Follow Through
Here are some further resources, tools, and blog posts to help you tackle today's Challenge more effectively.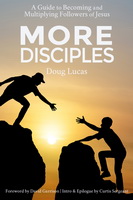 The Revised and Enlarged Version of More Disciples (now available at Amazon) adds significant text, including Questions for Discussion. For the benefit of any who bought the "1.0" version of the…