Today in the 30-Day Challenge we read…
"Set your minds on what is above, not on what is on the earth."  – Colossians 3:2
Did you know that there is an unbeliever going to Hell every second.  The clock is ticking…the pace has been set.  The current status quo is not acceptable.  Hell is real and eternal destinies depend on our obedience to the command, "Go, therefore, and make disciples of all nations…" (Matthew 28:19a).  The road isn't easy and the Bible actually tells us that it is narrow.  Let's set out to love, teach and make disciples who make disciples.
Your Day 9 Challenge is to watch a short 4 minute video found below. It features DMM trainer, Curtis Sergeant, on the topic of "Pace." After you watch the video, look over your list of 25 individuals that you made on Day 6.  Is there someone on the list that God is leading you to share your testimony – that could be a 'green light?'  Listen to the Holy Spirit's urging.  Let's be urgent with our intentions and be about our King's business.
We are praying for you!
Optional Homework
Learn more about urgency by watching the brief video below, featuring DMM Trainer Jon R, speaking on the topic, "Urgency." Also, remember to check out the posts below that. They'll take you to an even deeper understanding of this principle.
Follow Through
Here are some further resources, tools, and blog posts to help you tackle today's Challenge more effectively.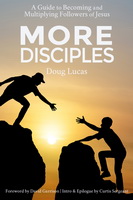 The Revised and Enlarged Version of More Disciples (now available at Amazon) adds significant text, including Questions for Discussion. For the benefit of any who bought the "1.0" version of the…