MultiplyUs | October 1, 2020 | 2:30 – 4:30 PM EDT
"Lord, please multiply us around the block and around the world."
In the New Testament book of Acts, Luke carefully records the beginning of what could only be described as an explosion of church growth throughout the known world. Within a few short centuries, Christianity was well on its way to becoming a world religion.
Church growth in the New Testament was characterized by:
fervent prayer,
courageous and widespread witness in the face of persecution,
intentional multiplication of house or cell churches, and
a strong network of fearless lay leaders.
Interestingly, the past few decades have witnessed a return to these trademark values, resulting in hundreds of new "Kingdom movements" throughout South America, Asia, and Africa. When will it be North America's turn? When will Europe and Australia/New Zealand catch on?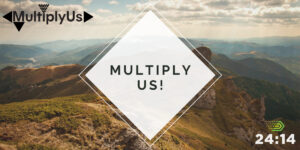 The answer is: Now. At least that's what many key leaders are hoping. In an effort to catalyze just such an awakening in North America, the global network known as 24:14 has partnered with More Disciples to launch a series of online events featuring early examples of start-up movements in the USA.
MultiplyUs, the first event in this series, is scheduled for October 1st, from 2:30 until 4:30 pm EDT.
This event will take place online.  You'll hear multiple stories that give a glimmer of hope and light for Kingdom movements in the USA and Canada. If you hope to see a movement in YOUR hamlet, town, city or state, don't miss "MultiplyUs!"
This event will be recorded.  To receive the recording, please register.  You'll receive a link as a follow-up email.