Today in the 30-Day Challenge we read…
"In fact, all those who want to live a godly life in Christ Jesus will be persecuted."  – 2 Timothy 3:12
If you are a true disciple who makes disciples you will experience persecution and suffering.  Spiritual warfare will come your way – you must be prepared.  The individual and family that you are growing in the Lord will experience spiritual warfare as well – they must be prepared.  God has designed persecution and suffering so that we will grow in our faith.
We are at odds with an enemy if we are serious about following the Lord.  You must recognize that this is intended – and that it will be used for God's glory.  Specific godly character traits are developed from suffering and our faith is increased.  This will also allow us to rely more on the Lord then on ourselves.
The Day 25 Challenge is to read the 10 Helpful Perspectives Motivating Perseverance below and look up each scripture reference then watch the Self Feeding: Persecution & Suffering video."
Here are 10 items that can be helpful to provide motivation in the midst of persecution and suffering:
It is a great honor to be persecuted (Matt 5:10-11; 2 Thess 1:5; Heb 11:26)
Persecution results in our good and our growth (Rom 5:3; Jas 1:2-4)
The persecuted will receive a heavenly reward (Matt 5:12; 2 Thess 1:7-10; Jas 1:12)
Persecution can never separate us from the love of God (Rom 8:35-39)
Persecution cannot conquer our faith (Rom 8:33-39)
God limits our persecution according to His will (2 Cor 4:8-9)
God is our sole deliverer (2 Tim 3:11)
God will ultimately avenge the persecuted (2 Thess 1:6)
Persecution (rightly endured) reveals Jesus to the world (2 Cor 4:8-11)
Persecution is spiritual (not human or physical) warfare and the battle must be fought spiritually (2 Cor 10:3-5; Eph 6:10-20)
Thanks to Nik Ripken for sharing this list with us.
Follow Through
Here are some further resources, tools, and blog posts to help you tackle today's Challenge more effectively.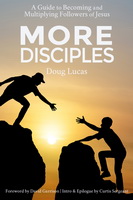 The Revised and Enlarged Version of More Disciples (now available at Amazon) adds significant text, including Questions for Discussion. For the benefit of any who bought the "1.0" version of the…